$2,007,045 for the Three Notched Trail Shared Use Path Plan in Albemarle County for the planning of a project that will develop a shared use path between the City of Charlottesville, the community of Crozet, and Western Albemarle and Nelson County.
(the following is from the beginning of the above-referenced release)
WASHINGTON – Today, U.S. Sens. Mark R. Warner and Tim Kaine (both D-VA) announced $64,207,045 in federal funding for Virginia infrastructure projects courtesy of the Bipartisan Infrastructure Law negotiated by Sen. Warner and supported by Sen. Kaine. The funding was awarded through the Department of Transportation's Rebuilding American Infrastructure Sustainability and Equity (RAISE) discretionary grant program that helps communities plan and carry out projects with local or regional impact.
"Virginia continues to benefit from the Bipartisan Infrastructure Law," the senators said. "We are thrilled to see this funding head to Virginia for improvements throughout the Commonwealth that will have a direct impact on Virginians' daily lives."
---
Getting people out of cars onto bikes and e-bikes withing safe, protected lanes from Afton and Crozet to Charlottesville. Sounds simple, reasonable, and a no-brainer.
Getting there will take a lot of work, and huge thanks and congratulations to everyone who lobbied to get this funding.
---
The Three Notched Trail (TNT) is a proposed shared use path from the City of Charlottesville extending to Ivy, Crozet, and the Blue Ridge Tunnel in Afton. Additionally, the trail will connect users to the University of Virginia, the Blue Ridge Parkway, Shenandoah National Park, Skyline Drive, and the Appalachian Trail.
A "shared use" path is typically a 10' wide paved trail that is physically separated from the motor vehicle travel way and allows bi-directional pedestrian and bicycle traffic. Once built, the TNT will provide local residents and visitors with car-free transportation and recreational opportunities.
We see the Three Notched Trail being a part of a larger Mountains-to-Sea Trail, connecting the Blue Ridge Mountains to the Chesapeake Bay. This continuous trail would make Virginia a trailblazer in outdoor recreation, tying together the Virginia Capital Trail with the proposed Birthplace of America Trail and Fall Line Trail. Imagine a continuous trail almost 200 miles long!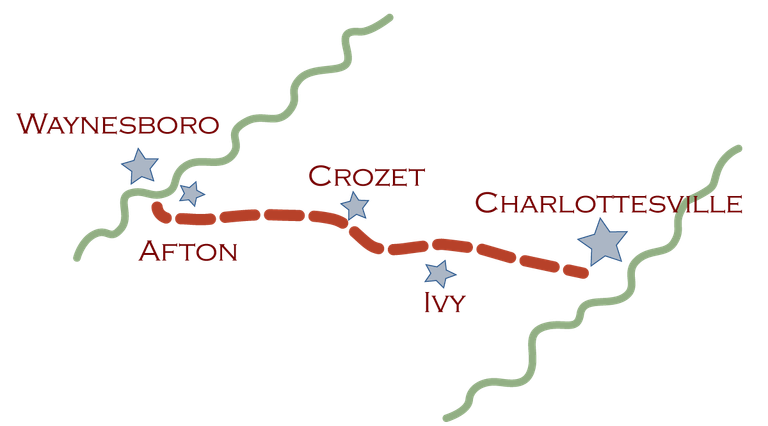 ---
The cynical side of me is hopeful, but realistic. It took 10 years to get the sidewalks in front of Harris Teeter. Here's hoping my great grand child will be able to get from here to there not in a car.
The sidewalks took only a decade to get done.
Years.